HOME | DOWNLOADS | DOCUMENTATION | CONTACT
Documentation
On this page the various functions of the Sportmate calculator is explained in detail.
Run the application, and the main dialog will appear. Here, you can select the type of calculation to perform.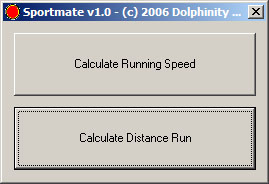 Currently, only 2 calculations are present. More will be added over time; come back regularly to check for updates (expect things like calorie burning calculations).
Each calculation dialog has an 'Example' button which fills in some example values. After clicking 'Example', press 'Calculate' to see the results on the right.
This calculator can calculate how fast you have been running, based on some timing & distance details.
You input:

Total distance run
Total sporting time
Time spent walking (just fill in 0 if you didn't rest)
Average walking speed

The output:

Running time (total time minus walking time)
Distance walked (walking time divided by walking speed)
Distance run (the rest)
Running speed (distance run divided by running time)
This calculator calculates how far you've run based on your running time & speed.
You input:

Total sporting time
Time spent walking (just fill in 0 if you didn't rest)
Average running speed

The output:

Running time (total time minus walking time)
Distance walked (walking time divided by walking speed)
Distance run (running time divided by running speed)
Back to home
(c) 2006 Dolphinity B.V. / Ruud van Gaal